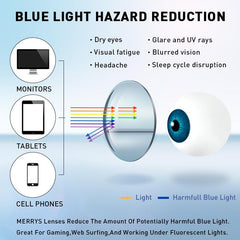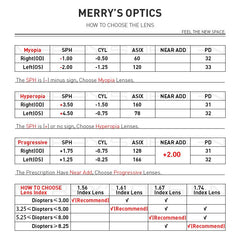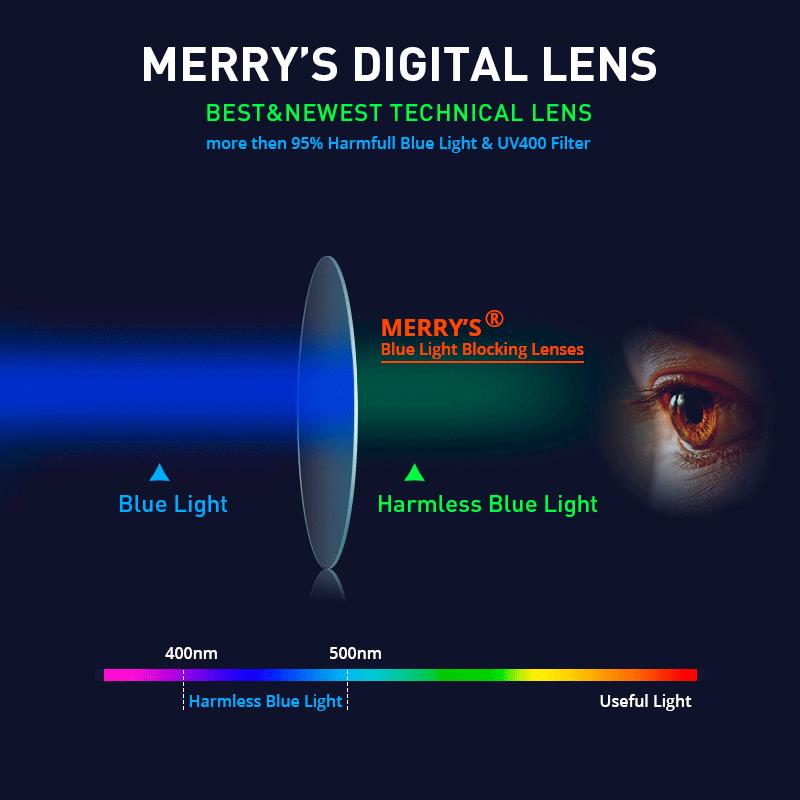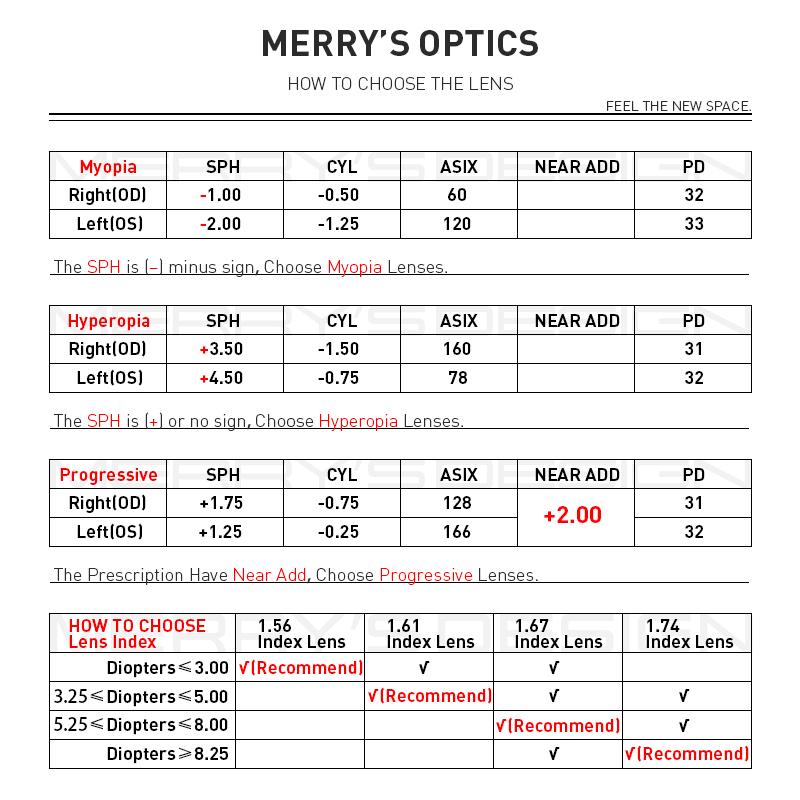 MERRYS Anti Blue Light Blocking Lens A1 Series Anti-reflective Optical Prescription Aspheric Glasses Lenses Myopia Hyperopia
Out of stock
How To Order Prescription Glasses

Step 1: Choose frame add to cart.
Step 2: Choose Lenses add to cart. Contact us if you don't know how to choose the lens.
Step 3: Provide your Prescription.
Step 4: Place an order,make payment and waiting for delivery.
MERRY'S OPTICS

Step 1


Step 2


Step 3

Step 4

Choose Frame

Choose Lenses

Provide Your

Prescription.

Place Order

Make Payment.
Please upload your scanned prescription paper in the order detailed page, or please write your prescription there as follows:
Note: Remember to write the symbol "+" or "-"
MERRY'S OPTICS

Prescription


    SPH    


    CYL    


    ASIX    

Near ADD

     PD

Right  (OD)

-1.25

-0.50

60




32

Left  (OS)

-1.75

-1.25

120




33

Leave us message

Right(OD)     SHP:  -1.25     CYL:  -0.50     AXIS :  60

Left(OS)        SHP:  -1.75     CYL:  -1.25     AXIS :  120

The numbers filled in the table are just taken as an example.
How To Read Your Prescription
This indicates the strength of the lens power, measured in Diopters (D). Most typically this is written in ¼ diopter increments (I.E. 0.25, 0.50, 0.75, 1.00). This value is the prescribed amount of correction for Nearsightedness (Myopia) or Farsightedness (Hyperopia). If the number appearing under this heading has a minus sign (–), you are nearsighted; if the number has a plus sign (+) or no sign, you are farsighted. If there is no spherical correction, it could be written as 0.00 or Plano (PL).
This indicates the strength of the lens power to correct Astigmatism. If nothing appears in this column, the value is 0 or "SPH" is written, it indicates that there is no astigmatism.
Optometrists usually write the astigmatic correction with a minus sign (-). Ophthalmologist usually write the value with a plus sign (+). These represent two different ways of determining the correction.
Astigmatism basically means the light coming into the eye comes to two focal points. To correct this, the lens uses the SPH power to move one of the focal points to the retina and the CYL power to move the other focal point to the retina.
The Axis number will be a value between 1 and 180. The diagram below demonstrates where those meridians are located. As you can see above, the number 90 corresponds to the vertical meridian of the eye, and the number 180 corresponds to the horizontal meridian. To avoid mistakes, the axis is typically written as 3 digits. For example, an axis value of 45 is usually written as 045.
This is the added magnifying power applied to the bottom part of Bifocal, Trifocal or Progressive lenses to correct presbyopia. The number appearing in this section of the prescription is always a plus power, even if it is not preceded by a plus sign (+). The add power is usually the same for both eyes, however in certain rare occasions it could be different between the 2 eyes.
A brief description of presbyopia is the acquired inability to focus on close objects. Presbyopia is a natural aging change within the eyes. There is no way to prevent it and it happens progressively over time. Presbyopia typically starts to affect people around age 40.
What Lens Index is Best For You

The lens thickness you should get depends on your prescription and your lifestyle.
Thicker lenses are more affordable, but can only accommodate lower vision correction needs.
Thinner lenses are lightweight (and more stylish!) and can accomodate ALL kinds of vision needs,
including higher prescriptions!
MERRY'S OPTICS

Lens index


Suggestion Power


    SPH  


CYL

1.56 INDEX LENS

For people with moderately-strong prescriptions.

Thinner and lighter than standard lenses.

-0.00 to -3.00

or

+0.00 to +3.00

+/- 2.00 or below

1.61 INDEX LENS

Stylish and extra-thin.

Great choice for stronger prescriptions.

-3.25 to -5.00

or

+3.25 to +5.00

+/- 2.00 or below

1.67 INDEX LENS

Extremely thin.

Good choice for extra-strong prescriptions.


-5.25 to -8.00

or

+5.25 to +8.00


+/- 2.00 or below


1.74 INDEX LENS

As thin as possible

Best for the highest prescriptions.

+/-8.25 and above

+/- 2.00 or below

If your CYL> 2, please pay an additional $10 customization fee.

Add to cart

If your CYL> 4, please pay an additional $20 customization fee.

Add to cart
How to Measure Your PD
If you want to order eyeglasses online, you can either ask your optometrist for your PD or measure it yourself.
If obtaining your measurement from your optometrist isn't possible, no worries—you can measure it from home using ruler! 
MERRY'S Aspheric Lenses
MERRY'S Aspheric lenses can reduce aberrations and distortions, and visualize objects more realistically.
MERRY'S Aspheric lenses are lighter and can effectively relieve visual fatigue caused by compression.
MERRY'S Prescription lenses
| | |
| --- | --- |
| Lenses Properties | Myopia, Hyperopia, Progressive |
| Lens Index | 1.56, 1.61, 1.67, 1.74 |
| Product vendor | MERRY'S Official Store |
Shipping Method Estimated Delivery Shipping Fee
Standard Shipping 14-21 Days Free
Business Express 7-14 Days US$17.99
* We recommend you to choose business express for fast delivery.
Tracking
Tracking You can track your package using 17track.